WASHINGTON, DC (July 5, 2022) – Today, the DC Chamber of Commerce released a "5-Step Roadmap to Worksite Wellness" report developed with the support of the DC Department of Health (DC Health). The report outlines the outcomes of an assessment of DC's small, medium and large businesses and how well they are providing employee resources to promote overall health and wellness. The report was developed as part of the DC Chamber's work on the "DC Works Well" grant with DC Health.
"Through the DC Works Well Initiative, the DC Chamber is seeking to enhance overall employee well-being by helping local businesses provide the infrastructure to create worksite wellness, from the top," said Angela Franco, President & CEO, DC Chamber of Commerce. "Through our discussions with employers, we defined 'worksite wellness' to include employee needs such as informal check-ins, equity, stress reduction management, flexible work schedules and more."
For the report, the DC Chamber analyzed organizations' current health and wellness landscape by conducting a series of focus groups with DC businesses in Spring 2022. The focus groups were comprised of DC employers, human resources (HR) representatives, and business organizations to provide perspectives on how worksite wellness strategies and initiatives have evolved over the course of the COVID-19 pandemic. The CDC Worksite Health Scorecard (CDC Scorecard) was designed to help employers assess whether their worksite wellness programs are based on the best evidence for improving employees' health and wellness.
The DC Works Well report combines findings from the focus group discussions. The report also provides a picture of how some of the businesses in the District are addressing health and wellness issues, as well as a 5 key steps roadmap for employers to support employee wellness.
Based on the research, many of the themes that were a priority for businesses in 2020 also surfaced as a priority in 2022. A few themes, highlighted in bold below, were heavily emphasized this year.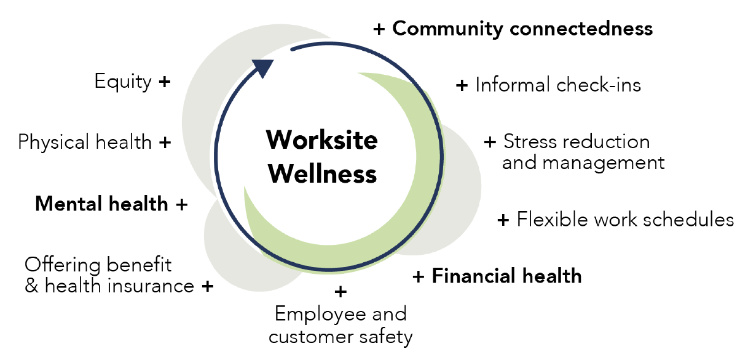 Specifically, DC employers are focused on ensuring that their business has good financial health and that there are financial resources strong enough to support the business, the work, the employees, and their livelihoods, in order to take the next step to support worksite wellness. Mental health has been magnified by the stress of the pandemic over the past two years alongside financial issues, social isolation, and concerns about employee and customer safety.  As a result, mental health support and services are a high priority and an integral piece of worksite wellness. Lastly, fostering a sense of community connectedness is very important, especially among employers with remote work environments. Providing opportunities and spaces for employees to connect with each other online and in-person is a valuable part of developing relationships and supporting employee wellness.
"By identifying employer and employee needs, we created a five-step roadmap to help guide our local businesses to achieve overall worksite wellness," added Franco. "Studies conducted over the years show that the benefits of worksite wellness lead to employee retention and productivity. As the DC Chamber continues to support employee retention, we are encouraging DC Chamber members and businesses to consider these steps when building or improving wellness at work."
The conversations with small- to medium-sized business members of the DC Chamber revealed insights regarding five key steps to supporting employee wellness:
Step 1: Drive Wellness From the Top. Leadership must set the standard for communications, employee wellness needs assessments and dedication of financial and human resources.
Step 2: Take Inventory of Resources and Needs. Implement or continue to use strategies that assess employee needs, such as one-on-one check-ins with staff, staff meetings or establishing an 'open-door' policy for employees to communicate needs or problems to employers.
Step 3: Empower Employees to Engage and Participate. It's important for employers to ensure that employees are engaged in expressing their needs and receiving wellness information, and are empowered to take advantage of resources and benefits supporting health and wellness.
Step 4: Implement Wellness Support. Implementation of wellness support can occur in both formal and informal activities, and this is where the cultural values of the workplace and staff come into play. Consider the unique aspects of your organizational culture when implementing your wellness strategies and activities.
Step 5: Evaluate to Improve. Conducting satisfaction surveys or 'pulse surveys' — short, frequent surveys — can help employers track levels of satisfaction with programs. Holding regular meetings with employees, either in a group or on an individual basis, can help employers assess how employees are doing and what new needs may have arisen over time.
The full report can be viewed and downloaded: https://dcchamber.org/2022-dc-works-well/